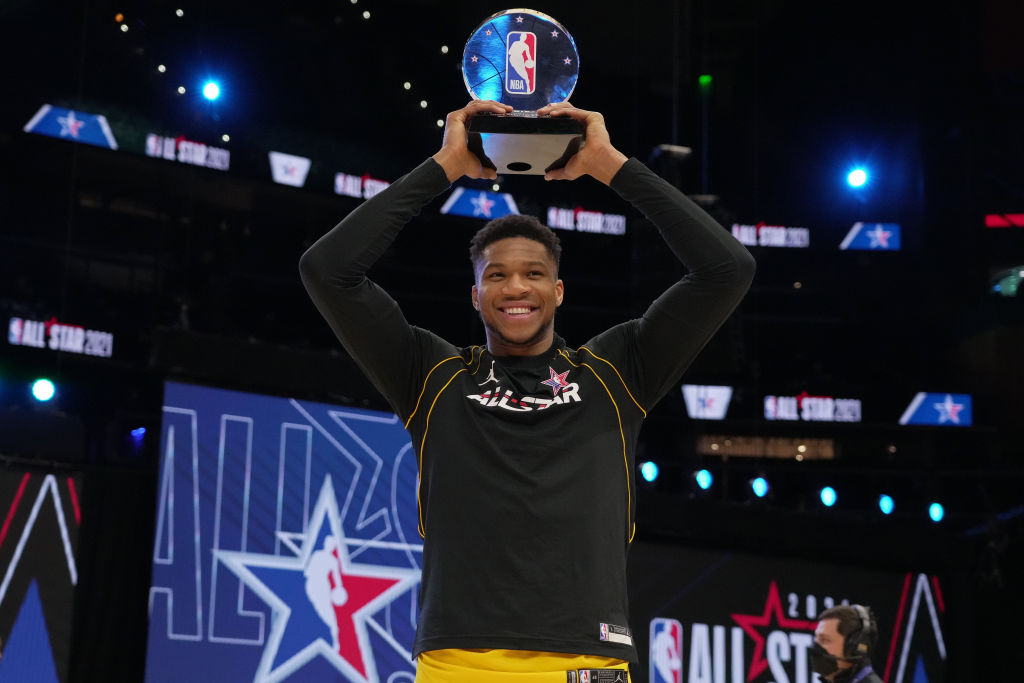 For the fourth consecutive year, LeBron James' team has come out on top during the All-Star Game, with the Dream Team-level squad selected by James during the 2021 NBA All-Star Draft defeating Kevin Durant's handpicked roster by 20 points (170-150).
However, while the King retained his crown, Milwaukee Bucks forward Giannis Antetokounmpo earned All-Star Game MVP honors and winning The Kobe Bryant Trophy (the official name for the All-Star Game MVP Award).
Antetokounmpo, a two-time NBA MVP and reigning Defensive Player of the Year, had a perfect outing during the 2021 NBA All-Star Game. The Greek Freak shot a record 16-16 from the field (including 3-3 from 3-point range) and dominating the interior on his way to 35 points and the first perfect shooting night in the All-Star Game's 70-year history.
Golden State Warriors star Stephen Curry, Antetokounmpo's teammate on the LeBron James-led All-Star team, also had a terrific night as he lit up Team Durant from behind the arc with 8-16 shooting from deep. Portland Trail Blazers leader Damian Lillard would match Curry's output from beyond the arc, going 8-16 from long-distance himself and scoring 32 points to Curry's 28.
Though Antetokounmpo may have been the most dominant player on Sunday night, Lillard had the two biggest shots of the night.
The first? A 3-point bomb from beyond halfcourt.
The second? A 3-point shot from just past halfcourt to seal the victory for Team LeBron.
Phoenix Suns veteran point guard Chris Paul, who dished out 16 assists, Boston Celtics wing Jaylen Brown (who scored 22 points in 26 minutes) and Los Angeles Clippers forward Paul George (who knocked down five 3-pointers) also played well for Team LeBron.
Meanwhile, James would only play 12 minutes, tallying four points and four assists.
For Team Durant, who would play without one-third of the Brooklyn Nets' superstar trio, Nets guard Kyrie Irving delivered the best performance with 24 points and 12 assists.
Irving made it look easy as he carved up defenses on his way to the rim, teammates James Harden and Bradley Beal couldn't be stopped from beyond the arc, knocking down 13 combined 3-pointers. Celtics forward Jayson Tatum would join Irving, Harden and Beal as the only players on Team Durant to score at least 20 points.
Following their victory, spirits were high for the winning team and the mutual respect was flowing.
James shouted out MVP-winner Antetokounmpo (prompting the Greek Freak to applaud James' roster-building skills), called his on-court pairing with Curry "well overdue" and continued to display his fondness for Lillard.
Antetokounmpo, in a lighthearted mood, would say that he and Denver Nuggets star Nikola Jokic need their own show.
Antetokounmpo would also speak on winning the Kobe Bryant MVP award, saying that "having an award named after Kobe Bryant in my house is a great feeling… I know he would be happy."
As part of the 2021 NBA All-Star Game's charity efforts, Team LeBron earned a grand total $1.25 million for the Thurgood Marshall College Fund while Team Durant earned $500,000 for the United Negro College Fund.
429