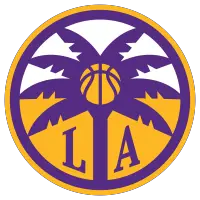 April 14, 2021 – Women's National Basketball Association (WNBA) – Los Angeles Sparks News Release
*Note: This article does not reflect the views of the Sparks Basketball Operations Department. The players below have all been named as potential Sparks draft picks by media personalities who have no affiliation with the Sparks.
The Los Angeles Sparks are busy preparing for the upcoming 2021 WNBA Draft presented by State Farm that will air on ESPN on April 15 from 4-6 p.m. PT. With four picks overall, we broke down some of the prospects WNBA analysts are projecting the team could pick up on April 15.
 Sparks 2021 Draft Picks
10th Pick (10th pick, 1st round)
22nd Pick (10th pick 2nd round)
28th Pick (4th pick 3rd round, via Dallas)
34th Pick (10th pick 3rd round)
Kiana Williams (PG, Stanford)
Williams has been tabbed by multiple analysts as a player the Sparks could potentially draft with the 10th overall pick. The 22-year-old was a fixture in Stanford's starting lineup all four seasons she played with the team and recorded an outstanding senior campaign as she helped lead the Cardinal to their first national championship since 1992. In the 2020-21 season, she shot 41% from the field and 38.3% from beyond the arc, averaged 14.0 points per game, and had more than twice as many assists as turnovers. The 5'8″ point guard holds the Cardinal record for career threes with 311. She never missed a game during her 137-game Stanford career, starting in her finals 128 contests. She is a versatile and durable guard that could fit in well with the Sparks offensive scheme.
Chelsea Dungee (SG, Arkansas)
Dungee has been listed as another possible option for the Sparks' first round pick. The 5'11" shooting guard began her collegiate career at Oklahoma before transferring to Arkansas after her freshman year. She quickly became a star for the Razorbacks, averaging over 20 points per game in her first season with the team. In her senior year, the 23-year-old shot 42.4% from the field and 38.67% from three-point range, averaged 22.33 points per game, and racked up 104 rebounds and 41 steals. While Arkansas was upset in the first round of the NCAA Tournament by No. 13 seed Wright State, Dungee shined with 27 points in 37 minutes of play. Dungee is a scorer first and foremost, but she does a little bit of everything. She very well could be drafted before the Sparks are on the clock, but if she ends up in Los Angeles she would add immediate firepower to the team's offense.
Natasha Mack (PF, Oklahoma State)
Mack's name has been floated as another player the Sparks could draft in the first round. The 23-year-old transferred to Oklahoma State from Angelina College (community college) after her sophomore season. She was named Big-12 Newcomer of the Year for the 2019-20 season. In her senior season, she was a dominant presence in the key for the Cowgirls, averaging 19.8 points per game on 52.9% shooting, bringing in 346 rebounds, and recording an NCAA-high 112 blocks. The 6'4″ power forward notched a double-double in each of the Cowgirls' NCAA tournament games. If the Sparks land Mack they would gain an elite defender, rebounder, and scorer all in one.
Michaela Onyenwere (SF, UCLA)
Onyenwere has been projected as a potential first-round pick for the Sparks. After being named to the Pac-12 All-Freshman Team for the 2017-18 season, the 6'0″ small forward became a consistent starter during her final three years with UCLA. In her senior season, the 21-year-old averaged 17.4 points per game and 8.1 rebounds per game over 16 contests. She made 41.2% of her field goal attempts. Onyenwere totaled 46 points in two NCAA Tournament games for the Bruins, scoring a game-high 25 points versus Wyoming in the first round and a team-high 21 points against Texas in the second round. If they draft her, the Sparks will benefit from her versatile scoring abilities and tenacious offensive rebounding.
 DiJonai Carrington (SG, Baylor)
Carrington is another player the Sparks might take with their first round pick. The 23-year-old played four seasons with the Stanford Cardinals, before joining Baylor as a graduate transfer prior to the 2020-21 season. This year she averaged 14.1 points per game on 42.6% shooting and just under 5 rebounds game. She helped guide the Bears to the Elite Eight, scoring 72 points and bringing in 25 rebounds in four NCAA Tournament matchups. She particularly stood out in Baylor's controversial loss to UConn, scoring 22 points and gathering seven rebounds. Carrington is first and foremost a scorer, but her scrappy rebounding is another asset that makes her a potentially strong fit for the Sparks.
Lindsey Pulliam (SG, Northwestern)
Pulliam is likely to be a pick and could very well land on the Sparks. The 5'10" shooting guard did not miss a single start, let alone contest, in her 123-game Northwestern career. She put up an average of 15.5 points per game in her senior season on 36% field goal shooting while compiling 133 rebounds, 55 assists, and 28 steals. The 21-year-old helped guide her team to the second round of the NCAA Tournament. She played one of her best games of the season in the first round, scoring 25 points and going 9-16 from the field. She is a strong mid-range shooter who could be a second-round steal for the Sparks.
Aaliyah Wilson (SG, Texas A&M)
Wilson has been listed as a possible pick that the Sparks might pick up No. 34 overall. The 5'11" shooting guard played her freshman season for the Arkansas Razorbacks before transferring to Texas A&M to play her sophomore through senior seasons. In her senior year, Wilson shot 43.9% from the field and 42% from downtown, averaging 12.7 points and 5.9 rebounds per game. She started in all 28 of the Aggies' games, helping lead the team to a Sweet 16 appearance. Wilson's three-point sharpshooting makes her an interesting late-draft possibility for the Sparks.
Who will the Sparks pick? Watch the draft action live on April 15 at 4-6 p.m. PT on ESPN.
• Discuss this story on the Women's National Basketball Association message board…
The opinions expressed in this release are those of the organization issuing it, and do not necessarily reflect the thoughts or opinions of OurSports Central or its staff.