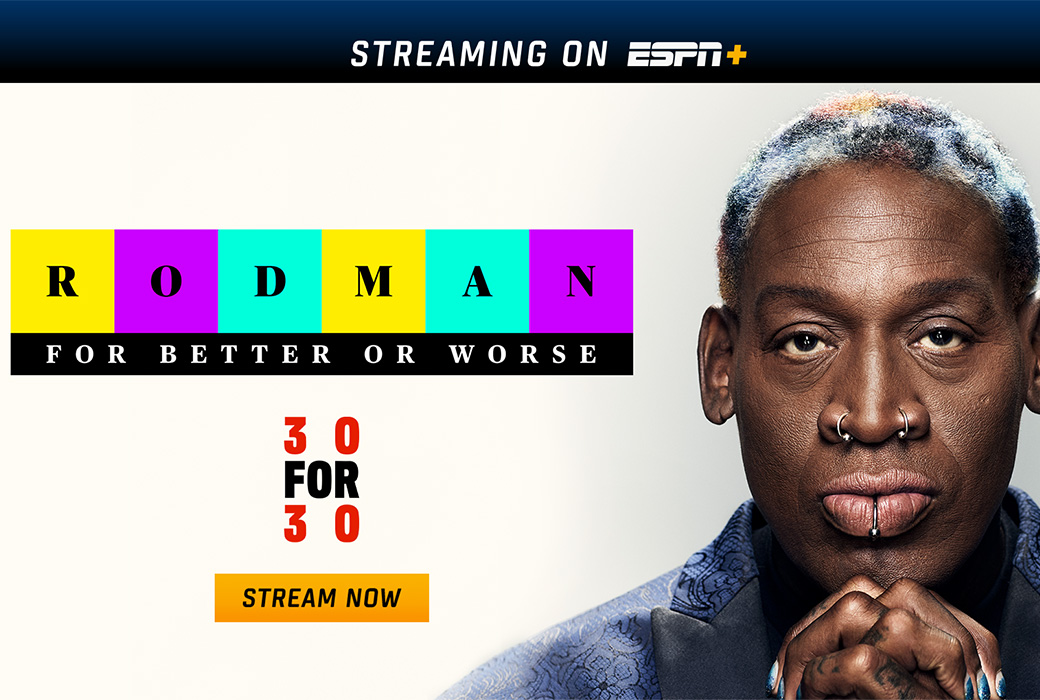 Explore the ESPN+ Black History Always collection created in partnership with The Undefeated for the best in storytelling through the lens of race, sports, and culture.
For so many professional athletes, everything is calculated. They're building a brand, and there's a team of public relations professionals, agents, and more scheduling their interviews, picking their outfits, and deciding just about everything else off the court.
That wasn't the case for Dennis Rodman.
"Do you want to come play for the Bulls?"
"I don't care. Whatever. What's up?"
Everything Dennis Rodman did, Dennis Rodman called the shots for.
Who he played for. What he wore. Who he dated. Where he went. Playing on the heights of two dynasties—the late 80's Detroit Pistons and the 90's Chicago Bulls—he had a platform. Everything about Dennis was unique.
On the court, he was a superstar who rarely hit double digits in the scoring column.
Off the court, he was rainbow-haired, piercing-covered, dress-wearing free spirit that took what the universe presented to him at any moment (even if it was a televised wrestling match during the NBA Finals).
Some called him crazy. Some called him cool. In reality, he was riding a blurry line that sat in the middle.
While Dennis had to wear a team-issued jersey when he took the court, and he made up for that by dressing HOWEVER he wanted when he was off of it. Team flights, in the tunnel, talk show appearances, post-title visits to The White House, it didn't matter.
He was pushing stylist boundaries long before the likes of Russell Westbrook and Nick Young became stars on LeagueFits and GQ for doing the same. If Jordan created sneaker culture, or at least shot it into the highest echelon, in basketball, then Rodman did the same for style.
It went beyond copping unreleased designer gear, that's following trends—he created them.
He wore a wedding dress to a marriage ceremony—to himself. He wore long, unbuttoned shirts and bedazzled tank tops to a nationally broadcast interview—because he could. He wore gallon-sized cowboy hats to games in metropolitan Chicago—I mean, why not?
Fashion wasn't a man's world yet, but you couldn't say Dennis Rodman wasn't manly. Yeah, he might've worn lipstick and the occasional dress, but he was also a 6-7, 210-pound maniac that'd outhustle any soul that's ever played the sport of basketball … and he dated Cindy Crawford.
"I'll be the judge of my own manliness," Dennis once said.
And that's the point. Long before Harry Styles rocked a dress on the cover of Vogue or Jordan Clarkson normalized wearing a kilt in the tunnel before games, Dennis Rodman normalized being yourself. Even if it's weird, even if it's different, it's you. And, for better or for worse, "you" is pretty damn cool.
—
Rodman: For Better or Worse—A 30 for 30 film and part of The Undefeated on ESPN+
Dennis Rodman reveals his darkest memories and brightest moments, in a study of the perils of fame and how complicated identity can be. Stream now on ESPN+
244