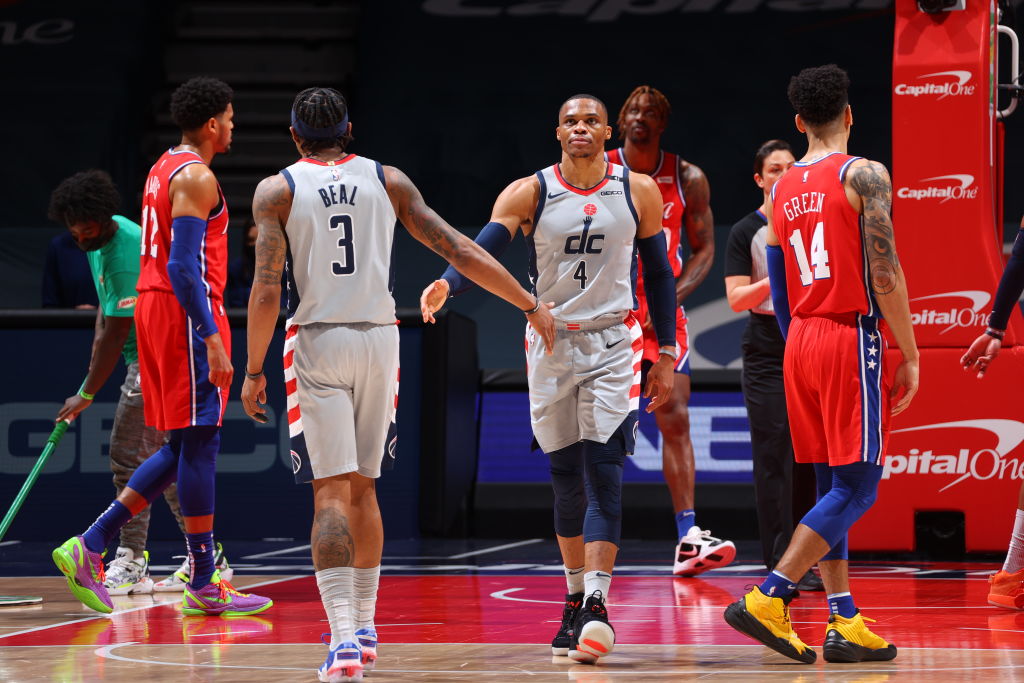 Nine-time All-Star and 2017 NBA MVP Russell Westbrook has received quite a bit of criticism over the course of his career regarding his play style and whether or not it lends itself to winning championships.
To that point, despite being teammates with superstars like Kevin Durant, James Harden, Paul George and Bradley Beal in all but one season of his 13-year, Westbrook has only reached the NBA Finals once and hasn't reached the Conference Finals since 2016.
That being said, Westbrook has long been considered an excellent teammate, wanting nothing but the best for the three franchises he's played for. In fact, Beal — a recent guest on SiriusXM NBA Radio with host Brian Geltzeiler — has even went as far as to call Westbrook "the best teammate" he's probably "ever had."
"As a leader. As a player. As a father. As a man. Like, he's the best teammate probably I've ever had, and just in terms of leadership, probably one of the best leaders I've been around. Because he holds himself accountable. He holds himself to a certain standard."
Westbrook's ability to hold himself accountable and "to a certain standard" shouldn't be surprising, as he's never shied away from being critical of his own performances. Nor is his magnetism, as Brodie leaves it all on the floor every time he steps out on the court with infectious energy.
However, from Beal's side, the comments are certainly interesting after he spent the first eight season's of his career with All-Star point guard John Wall.
Wall, who was traded to the Houston Rockets in exchange for Russ after spending the first 10 years of his career with the Wizards, was nearly as criticized as Westbrook and seemed to be ostracized by the franchise due to multiple injuries and a so-so off-court reputation.
1,968