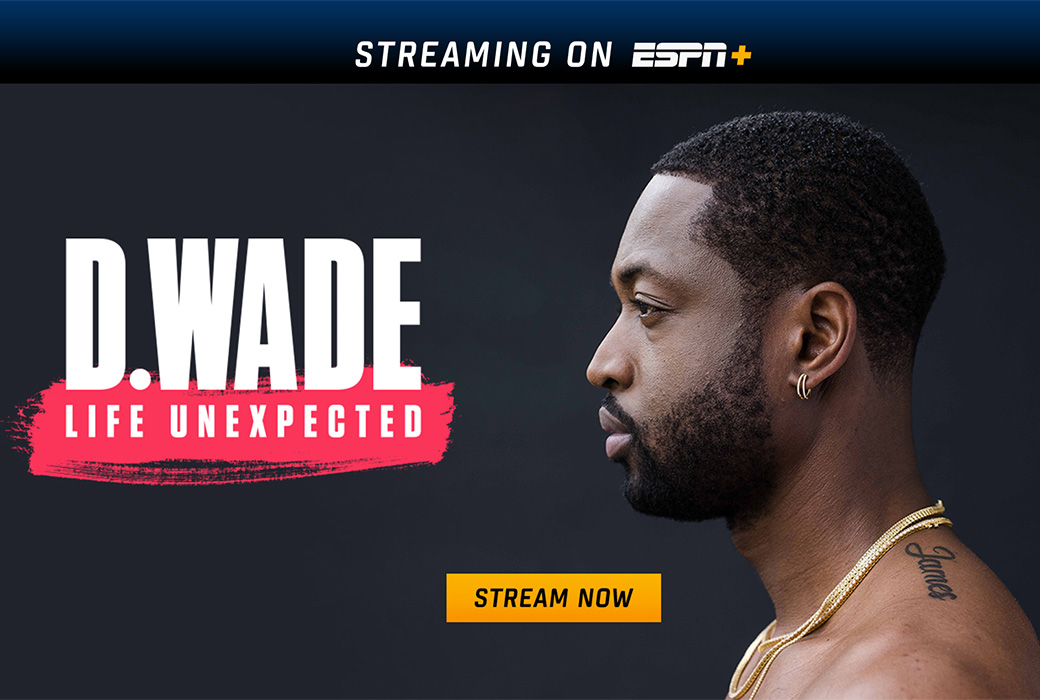 Explore the ESPN+ Black History Always collection created in partnership with The Undefeated for the best in storytelling through the lens of race, sports, and culture.
How do you capture the life of legend? Someone who has transcended the game, shifted the culture, impacted those around the world. A legend is a person even when they're not doing legendary things, but when their resume includes winning three NBA Championships and holding the Heat's all-time record in points, assists and steals, capturing the entirety of their journey, and all of the moments that led to all of those accolades, is no easy feat.
There are trials and tribulations, injury hardship, fatherhood, and marriage. Even for a legend, life can be unexpected.
Bobby Metelus spent ten years documenting the life of superstar Dwyane Wade, capturing footage that would eventually become the feature-film documentary, WADE: LIFE UNEXPECTED. The film follows the Flash as he looks back at every part of his life, from growing up in Chicago to getting drafted by the Heat as the fifth overall pick in the 2003 NBA Draft, and his journey since then.
Directed by Metelus, the film reveals who the legend is even when the ball stops bouncing.
"You have to never forget that when you're shooting a legend, you're still shooting a person. That's why I say one day at a time because we all do everything one day at a time," Bobby says over ZOOM in March. "I've been able to let a legend be seen in his natural habitat.The moment can't get too big for you, no matter who is in the room. To me, that's my schtick. Once I get into a room, no one knows I'm there sometimes."
Chronicling the life of a 13x All-Star takes paramounts of trust and a level of comfortability that's been built over time. Bobby and D-Wade go way back.
The two met in 2008 through Wade's assistant, Lisa, who Bobby was just starting to date at the time. After the Heat lost to Dallas during the 2011 NBA Finals, Wade jetted off to Milan with his family and Bobby, who brought his camera along with him to take photographs. While on another trip to Paris, Wade's Twitter and email accounts got hacked, and Bobby recorded him talking directly into the camera. This was the first time he began experimenting with video, and he hasn't put his camera down since.
Bobby quickly became Wade's go-to guy whenever he wanted a moment to be captured. When Wade and LeBron James were working out in the summer during the NBA lockout, Bobby was there to film it. When Wade flew to China for a Gatorade event, he was there, too. Fashion Week? Bobby was there. Another workout with 'Bron and Mario Chalmers? Yeah, Bobby captured the whole session.
"I'll never forget when I walked in and I was so nervous I ain't going to lie," he says. " It's not an event it's literally just capturing life at this moment and it wasn't like we were on vacation it was different. I'll never forget he sees me and was like "oh my guy is here!". From that moment on, every time he needs something, he knows I'm not going to waste his time. You know it's a familiarity level, being comfortable, so it's easy for us and that's kind of been our story."
At the time, neither Bobby nor Wade had any intentions of using the footage for a documentary. It wasn't until Wade saw Kobe Bryant's documentary, "Muse" that he starting bringing up the idea of creating his own film. Bobby had never done a film before, having only dabbled with that type of cinematography while doing a feature on Chris Paul in 2015.
"I'm very confident in who I am but I was like, 'Do you want me to do this with someone else or individually?'" Bobby says. "[Wade] was like, 'The only person who could do this is you, you've seen everything.' I was like you know what, you right, you right."
Bobby quickly began putting a team together, and spent three weeks going through ten years of archived photos and videos to create a teaser for the documentary. Then, at the suggestion of Lisa, he set up meetings with production companies to assist with the film, ultimately partnering with Imagine Productions. While Bobby had "been in the game a little bit" and worked with NBA players such as Wade, Paul, Jimmy Butler and Carmelo Anthony, he found himself now talking to experts in filmmaking and sports documentaries.
With D-Wade's trust, and tens years worth of footage, even the production companies knew Bobby was the man for the job.
"They said, "You already got a handle on this, you know this more than anybody. We just want to help you make it."
D.Wade: Life Unexpected reveals the person behind the championships, the accomplishments and the accolades. The film is honest and real—it includes footage from multiple three hour "therapy sessions" that Wade had with Bobby, completely unfiltered, where he discusses his childhood, his marriage with Gabrielle Union, supporting his daughter, Zaya, and retiring from the game.
When the film premiered last year during All-Star weekend in Chicago, Wade's loved ones, friends, Miami Heat teammates and even Pat Riley all came out to support. Bobby remembers being so nervous that night. Having spent years capturing one person's life, and all the people that are a part of it, he wanted everyone to be happy with the final product, and to feel like they had a chance to tell their truth.
When the credits rolled, Bobby felt like had done something truly special, monumental even.
"At that moment, I might have seen it like five, six, seven or eight billion times, but watch it with everyone else for the first time, aw man, it was a labor of love [and] a moment of accomplishment. I havn't won an NBA championship or anything like that but I felt real proud to do something like that with him."
In life, things eventually come full circle. Bobby, who was born in raised in South Florida, knows how much Wade has impacted his home state and the entire world. After all, before he was a filmmaker, he was a fan who would cheer on the Heat and their standout shooting guard, wearing the same shirt every single game, hoping it would spark some good luck. It was unexpected, but that same fan became the very person that Wade trusts to tell his story.
"I tell Dwyane, he helped me understand that legends are real, and legends are people too."
—
D.WADE: Life Unexpected—Watch the film now on ESPN+
For a decade, Dwyane Wade documented his life and career with an all-access film crew. Stream the candid portrait of one of the greatest NBA players of all time. Stream now on ESPN+
74