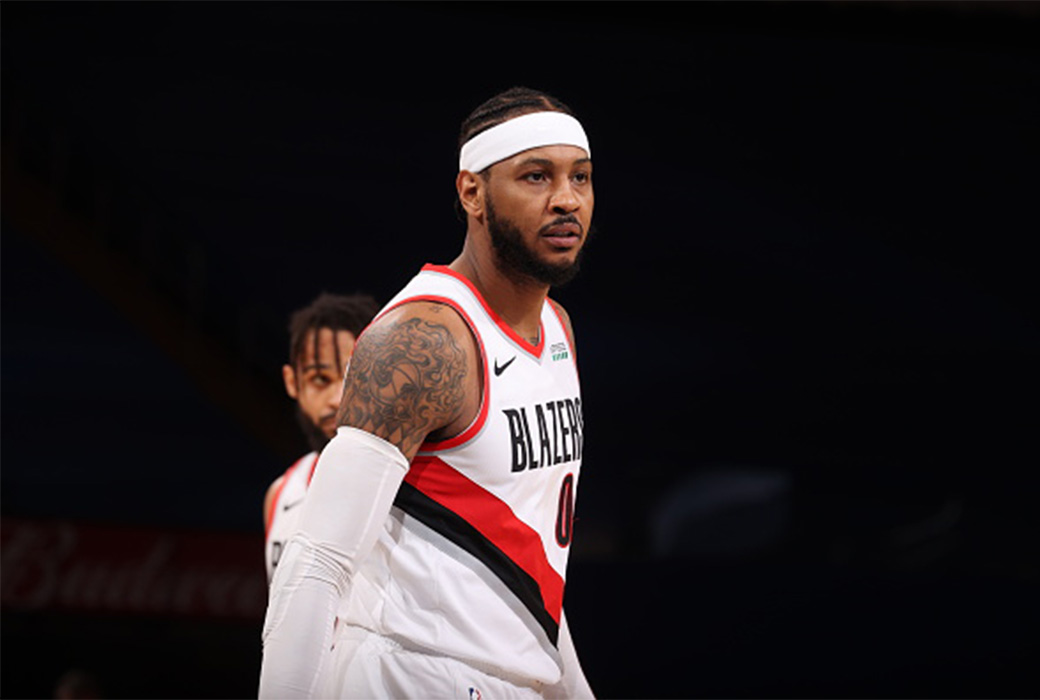 Blazers forward Carmelo Anthony moved into 12th place on the NBA scoring list. He passed Hall of Fame point guard Oscar Robinson in last nights game.
Moving on up!

Congratulations, @carmeloanthony pic.twitter.com/a1ndEDvt58

— Portland Trail Blazers (@trailblazers) February 10, 2021
Anthony reached this significant mark early in the 4th quarter against the Magic, solidifying the record with his signature pump fake and fade-away jumper. This iconic move will never get old.
Melo moves to 12th on the all-time NBA scoring list with this bucket 🙌 pic.twitter.com/xHnQdlppt4

— SportsCenter (@SportsCenter) February 10, 2021
Along with reaching this milestone, Anthony added a season-high 23 points in 27 minutes. He also went 5-9 from beyond the arc helping the Blazers get past the Magic, 106-97.
So far this season, Anthony is averaging 12.5 points and 3.5 rebounds per game. At this stage in his career, Anthony isn't taking anything for granted especially when it comes to passing legends like the 'Big O'
"I try to play it cool sometimes. I try to sit back and reflect on these moments, take these moments in … but The Big O, that's big." @CarmeloAnthony talks to @Brookeolzendam in tonight's @biofreeze Top Performance Review pic.twitter.com/czuzfp7dHq

— Portland Trail Blazers (@trailblazers) February 10, 2021
The veteran forward has become the leader of the Blazers second unit as he has been able to redefine his legendary career in Portland primarily coming off the bench. Anthony has now scored 20+ in 3 of the last 4 games for the Blazers helping them go 3-1 in that stretch.
Melo scored a season-high 23 PTS tonight 🔥#StayMe7o pic.twitter.com/StvpBWuLpP

— Bleacher Report (@BleacherReport) February 10, 2021
As Anthony looks to crack the top 10, the next stop will be passing two former NBA greats Hakeem Olajuwon (26,946) and then Elvin Hayes (27,313).
Anthony continues to add to an outstanding basketball career that includes an NCAA National Championship at Syracuse, three Olympic golds, a scoring title in 2012-13, and 10 All-Star appearances.
513