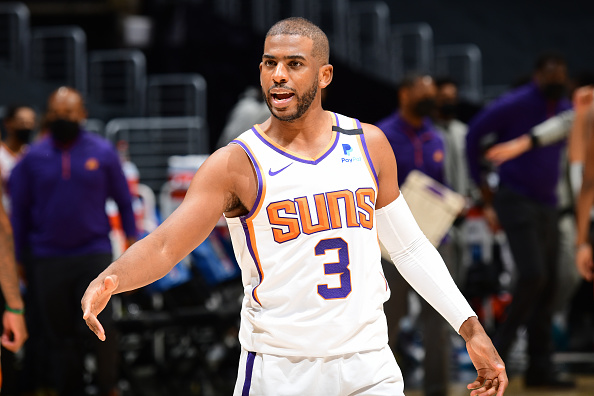 Phoenix Suns guard Chris Paul is starting to make NBA history on a nightly basis as of late surpassing Hall of Famers in the NBA record books.
After passing Hall of Fame forward Scottie Pippen for sixth-place on the NBA's career steals list on Monday, the all-time great point guard passed up another Hall of Famer, point guard Maurice Cheeks, for fifth-place on the NBA's career leaderboard in a 106-86 win over the Miami Heat.
Paul had three steals in the game which included two in the fourth quarter that put him at 2,311 for his career. Cheeks, who was fifth at the time had 2,310 in 15 NBA seasons.
Paul is now pursuing 'The Glove,' Gary Payton, for fourth place (2,445 steals); NBA legend Michael Jordan, who's in third-place (2,514); former floor general Jason Kidd (2,684); and the NBA steals record holder, John Stockton (3,265).
This milestone comes weeks after Paul became the sixth player in NBA history to total 10,000 career assists against the Los Angeles Lakers.
CP3 shares this honor with Stockton, Kidd, two-time NBA MVP Steve Nash, 1988 Rookie of the Year, Mark Jackson, and five-time champion Magic Johnson.
Paul is still going strong in his 16th season, quelling suspicions that he's lost his status as an upper echelon playmaker the last two seasons.
While he recently played in his 11th All-Star Game (with his second-consecutive appearance) last month, and has averages of 15.8 points, 8.7 assists and 1.5 steals per game, his ability to turn the Suns into a championship contender is perhaps his greatest feat yet.
45