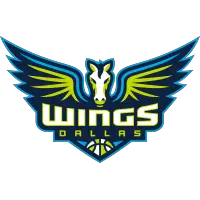 April 19, 2021 – Women's National Basketball Association (WNBA) – Dallas Wings News Release
Arlington, Tx- The Dallas Wings signed Tori Jarosz, Destinee Walker, Dee Givens and Amy Okonkwo to training camp contracts, the team announced today.
Jarosz was the MAAC Player of the Year for Marist College in 2015-16 before signing a training camp contract with the Wings prior to the 2016 WNBA season. Jarosz played professionally in Poland during the 2020-21 season where she averaged 10.7 points and 8.6 rebounds for Sosnowiec, scoring double-digits in five straight games including two double-doubles.
Walker was an All-ACC Honorable Mention, a two-time ACC All-Academic team and twice on the ACC Honor Roll. The Orlando, Florida native played for the University of North Carolina before transferring to Notre Dame prior to her fifth year and then gaining a sixth year of eligibility for the 2020-21 season. She averaged 13.3 points per game in her 50 games with the Irish, shooting over 38% from beyond the arc in her final season.
Givens was named to the Conference USA All-Conference First Team and was also named to the All-Defensive Team in her final season at Western Kentucky in 2019-2020 prior to turning professional. She averaged 8.9 points, 2.3 rebounds and one assist per contest for Bembibre in the Spanish league during the 2020-21 season.
Okonkwo was named to the All-Big 12 Second Team and the All-Big 12 Academic First Team during her final season at TCU in 2019. The California native averaged 11.3 points and 5.4 rebounds for Zamarat in the Spanish League during the 2020-21 season, including a double-double in her last game with 11 points and 11 rebounds.
Training Camp begins on April 25 and Pre-season begins April 30. The full roster can be found below.
Dallas Wings Training Camp Roster
# Name POS Height DOB EXP From
32 Bella Alarie C-F 6-4 ft 4/23/1998 1 yrs PRINCETON/USA
35 Charli Collier F-C 6-5 ft 9/22/1999 R TEXAS-AUSTIN/USA
33 Chelsea Dungee G 5-10 ft 5/11/1997 R ARKANSAS/USA
13 Dana Evans G 5-6 ft 8/1/1998 R LOUISVILLE/USA
23 Dee Givens F 6-1 ft 1/4/1997 0 YRS WESTERN KENTUCKY/USA
15 Allisha Gray G 6-0 ft 1/12/1995 4 yrs SOUTH CAROLINA/USA
10 Megan Gustafson C 6-3 ft 12/13/1996 2 yrs IOWA/USA
52 Tyasha Harris G 5-10 ft 5/1/1998 1 yrs SOUTH CAROLINA/USA
20 Isabelle Harrison F 6-3 ft 9/27/1993 4 yrs TENNESSEE/USA
44 Tori Jarosz F 6-2 ft 8/18/1992 0 YRS MARIST/USA
4 Moriah Jefferson G 5-6 ft 3/8/1994 4 yrs CONNECTICUT/USA
28 Awak Kuier f-C 6-4 ft 8/19/2001 R FINLAND
3 Marina Mabrey G 5-11 ft 9/14/1996 2 yrs NOTRE DAME/USA
24 Arike Ogunbowale G 5-8 ft 3/2/1997 2 yrs NOTRE DAME/USA
00 Amy Okonkwo F 6-2 ft 8/26/1996 0 YRS TCU/USA
0 Satou Sabally F 6-4 ft 4/25/1998 1 yrs OREGON/USA
6 Kayla Thornton F 6-1 ft 10/20/1992 5 yrs TEXAS-EL PASO/USA
2 Destinee Walker G 5-9 ft 10/19/1996 R NOTRE DAME/USA
• Discuss this story on the Women's National Basketball Association message board…
The opinions expressed in this release are those of the organization issuing it, and do not necessarily reflect the thoughts or opinions of OurSports Central or its staff.

report this adSource