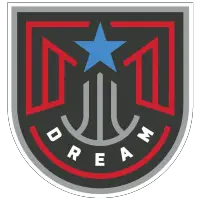 April 20, 2021 – Women's National Basketball Association (WNBA) – Atlanta Dream News Release
ATLANTA – The Atlanta Dream are set to begin training camp ahead of the 2021 season next Sunday, April 25. Training camp will run for two weeks until the Dream's season opener against Connecticut on May 14 in the team's new home of Gateway Center Arena @ College Park.
Atlanta carries an active roster of 17 heading into camp, allowing the team to have the maximum 15 in a day of camp all preseason. The final roster cut-down date for teams to finalize their 12-player roster is May 13.
Returning Players
Monique Billings
Kalani Brown
Chennedy Carter
Kaela Davis
Tiffany Hayes
Shekinna Stricklen
Courtney Williams
Elizabeth Williams
The Dream return seven players from 2020 roster, five of which have yet to play a true home game in Atlanta as they were added just prior to the league's Florida bubble season.
WNBA All-Rookie honoree Chennedy Carter and WNBA All-Defensive team member Elizabeth Williams return after impressive performances in the WNBA bubble last season. Carter became the youngest player in league history to score 35 or more points, and Williams took over as the Dream's all-time leading shot blocker, tallying 288 over her five years with Atlanta.
Atlanta's franchise player, Tiffany Hayes, returns to the Dream this season after opting out of the 2020 WNBA season. She will stop on the court for her ninth season with Atlanta, the second-most of any player in franchise history. Hayes returns to the team as the active leader in nearly every statistical category with 245 games played, 3,342 points, 34 games with 20 or more points scored, 1,071 field goals made, 583 assists and 264 steals, among many others.
She is also the all-time franchise leader in three-point field goals (273), three-point field goal attempts (857), and is the active leader in three-point field goal percentage (.319, third all-time).
Acquired in 2021 Free Agency
Tianna Hawkins
Cheyenne Parker
Odyssey Sims
Yvonne Turner
Shatori Walker-Kimbrough
Collen added both depth and skill in the 2021 Free Agency period, bringing in five new players. The team acquired Cheyenne Parker as a free agent in the first day of the signing period after the 6-4 forward saw her most productive season of her six-year career, finishing the 2020 season averaging 13.4 points, 6.4 rebounds, 1.5 assists and 1.3 steals per game – all career-high numbers.
Parker will be joined by 6-3 forward Tianna Hawkins in the frontcourt, a WNBA Champion with the Washington Mystics in 2019. The Maryland grad has averaged 6.1 points and 3.2 rebounds over her seven-year pro career with both Washington and Seattle, seeing career-best numbers in assists per game (1.0), steals per game (0.8), blocks per game (0.4) and minutes per game (19.4) in 2020.
Hawkins' teammate in Washington and fellow Maryland Terp Shatori Walker-Kimbrough brings efficiency to the Dream's backcourt, entering this season with career averages of 5.6 points, 1.6 rebounds and 1.5 assists per game, as well as an impressive 91.1 shooting percentage from the charity stripe. The guard is coming off a career season with the Phoenix Mercury in 2020. The 5-9 Walker-Kimbrough enters the 2021 season as one of only three players in WNBA history to hold a career free throw percentage of at least 90 percent (min. 100 attempts), joining Elena Delle Donne and Tiffany Mitchell.
Veteran 5-8 guard Odyssey Sims will lead the Dream's young backcourt this season. Over her seven-year career, Sims has averaged 12.8 points, 2.7 rebounds, 3.9 assists and 1.1 steals per game, shooting 39.5 percent from the field and 83.7 percent from the free throw line. She saw her most efficient season since her rookie year in 2020, shooting 33.3 percent from range and 90.9 percent from the free throw line with the Minnesota Lynx.
Sims and Walker-Kimbrough are joined in the backcourt by Yvonne Turner, a 5-10 guard who averaged 5.2 points, 1.8 rebounds and 1.5 assists in her three years with Phoenix. In her last season in 2019, Turner averaged career-high numbers of 6.4 points, 2.8 rebounds and 2.3 assists per game.
Acquired in 2021 WNBA Draft
Aari McDonald
Lindsey Pulliam
Head Coach Nicki Collen drafted Aari McDonald with the third overall selection and Lindsey Pulliam with the 27th overall pick in the 2021 WNBA Draft just last week.
At Arizona, McDonald led the Wildcats to the team's first NCAA Finals appearance in 2021, averaging 24.8 points in their six games of the NCAA Tournament, including dropping 33 points against Indiana in the Elite Eight. The 5-6 guard earned Pac-12 Player of the Year and Defensive Player of the Year awards her redshirt senior year before becoming the first Wildcat to ever be drafted in the first round of a WNBA Draft.
Pulliam averaged 16.5 points and 4.2 rebounds over her four-year career at Northwestern. The 5-10 guard earned All-Big Ten honors in all four seasons and was the fastest player in Northwestern women's history to reach 1,000 pts. "Pull-Up Pulliam" finished her career with 2,025 total points, which ranks third all-time in the Northwestern career charts behind Anucha Browne and former Dream forward Nia Coffey.
Recently Added
Crystal Bradford
Mikayla Cowling
The Dream added Bradford and Cowling on training camp contracts just after the WNBA Draft on April 15. Bradford was drafted seventh overall by the Los Angeles Sparks out of Central Michigan in 2015 and played her rookie season in LA, where she averaged 2.7 points, 1.3 rebounds and 0.5 assists in 15 regular-season games played.
Cowling was drafted 33rd overall by the Connecticut Sun in 2018 out of California. She finished her career with the Bears as one of only four players in program history with 1,000 points and 400 assists and left with two Pac-12 All-Defensive Team selections.
Late Arrivals
Tiffany Hayes
Yvonne Turner
Hayes' final game with Perfumerías Avenida could be as late as May 6 if the club advances to the Liga Dia finals. Turner still has multiple regular season and potential postseason games with Flammes Carolo Basket in France, and her arrival date is still unknown.
Not with team in 2021
Raquel Carrera
Maite Cazorla
Both looking to make the Spanish National Team roster for the 2020 Tokyo Olympic Games, Raquel Carrera (15th overall pick in the 2021 WNBA Draft by the Dream) and Maite Cazorla (23rd overall pick in the 2019 WNBA Draft by the Dream) will forego the 2021 WNBA Season. Carrera and Cazorla were both called up to the National team late last year as two of just 19 players to make the roster.
Training Camp Media Information
All media availability with players and coaches throughout training camp will be held virtually through Zoom. Two players will be made available following each day of camp and links will be posted on dreammediacentral.com and emailed out ahead of time.
Season tickets for the 2021 season are available now by calling 877-977-7729 or visiting www.atlantadream.net. More ticketing information and arena protocols will be announced in the coming weeks.
The Atlanta Dream will tip-off their 14th season in the WNBA in May 2021. The organization, who will play its home games at the Gateway Center Arena @ College Park, has qualified for the WNBA Playoffs in nine of its first 13 seasons.
• Discuss this story on the Women's National Basketball Association message board…
The opinions expressed in this release are those of the organization issuing it, and do not necessarily reflect the thoughts or opinions of OurSports Central or its staff.

report this adSource