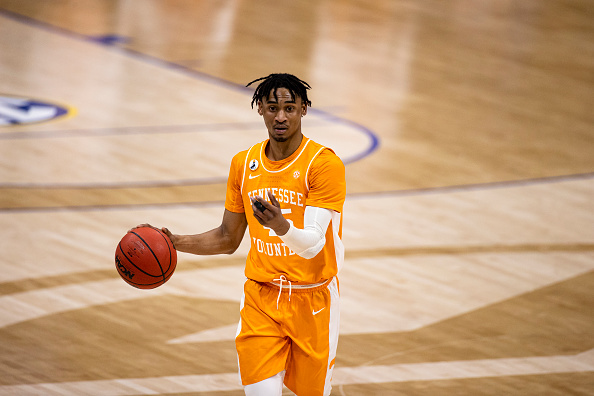 Tennessee Volunteers standout guard Keon Johnson has announced his intention to declare for the 2021 NBA Draft, hiring an agent and foregoing his remaining NCAA eligibility, per ESPN's Jonathan Givony.
Prior to starring for Tennessee, Johnson was a 5-star recruit from Bell Buckle, TN. After an impressive freshman season that saw him named to the SEC All-Freshman (1st Team), NBA teams will know what to expect from the Johnson but they'll also be banking on his youth as reason to believe he can continue to improve.
The highly athletic two-way player, averaged 11.3 points per game in 2020-21, the second-highest mark on the Volunteers behind freshman guard Jaden Springer's 12.5 points per game.
Per Givony, Johnson is the sixth overall prospect in ESPN's Top 100, as he has elite upside; the 19-year-old excels as a finisher and has the potential to be a lockdown defender as well.
What may be most interesting about Johnson's rise is a knee injury that caused him to come off the bench in 10 of Tennessee's first 11 games. Johnson not showed plenty of resolve to make it through an adverse situation but held himself accountable.
"Once I get comfortable and into a groove I understand the different expectations that are given," Johnson said. "Not starting or not playing as much early in the season didn't bother me because I knew I needed to grow so I took that upon myself to make that change."
Johnson would end finishing the season starting 17 games for the Volunteers, as he helped Tennessee make the NCAA tournament as a fifth seed.
15