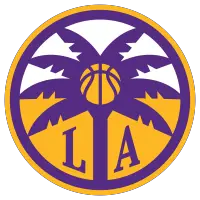 April 27, 2021 – Women's National Basketball Association (WNBA) – Los Angeles Sparks News Release
Sparks legend DeLisha Milton-Jones played for the team from 1999-2004 and 2008-2012. Over those eight years, Milton-Jones helped the Sparks win two WNBA titles, was a three-time WNBA All-Star, and played on two United States Olympic Teams, winning two Olympic Gold Medals.
Milton-Jones was drafted fourth overall in the 1999 WNBA Draft after she played at the University of Florida from 1993-1997. The 6-foot-1 forward also played for the Washington Mystics and Atlanta Dream along with the Sparks from 1999 to 2016. Milton-Jones averaged 11.2 points, 5.2 rebounds, and 1.2 assists per game throughout her career. She ranks second all-time in career games played at 499 trailing only Seattle Storm point guard Sue Bird who has played 519.
During her career at Florida, Milton-Jones was a First Team All American, the SEC Player of the Year her senior year, three-time All Sec-Honoree, and was the first male or female Florida Basketball player to become an All-American. She was a consistent force down low for the Gators, only a preview of the success she would have at the professional level.
In her first stint with the Sparks, Milton-Jones played extremely consistently alongside WNBA All-Time great Lisa Leslie. She averaged at least 9.8 points per game every season with the Sparks and was always reliable down low defensively. Never too flashy, Milton-Jones embraced being a consistent partner in crime to Leslie en route to two WNBA Titles. Milton-Jones also won her first Gold Medal with Team USA at the 2000 Olympics in Sydney, Australia.
During the 2001 and 2002 seasons, Milton-Jones led the team in steals, played in all 32 regular season games, and dominated in the postseason. In 2001, she averaged 12.3 points, 6.3 rebounds, 1.4 assists, and 1.56 steals per game. In 2002, she led the team in steals, ranked second on the team in rebounding, and third in scoring.
Milton-Jones quickly became a veteran leader not only on the Sparks, but across the league. In her second period with the Sparks, Milton-Jones won her second Gold Medal at the 2008 Beijing Olympics and became an integral part of ushering the next generation of athletes to the league. In 2010, she averaged a career high 15.4 points per game, and ranked top 15 in the league in scoring with 522 points and in 2011, the forward moved up to second all-time in franchise scoring. From 2008-2012, Milton-Jones did not miss one Sparks game, playing in every single regular season and postseason game. A consistent figurehead on court for a league at a crossroads between two generations of athletes.
In an ESPN article by Mechelle Voepel, Milton-Jones discussed how she felt an obligation to support and guide younger players in the growing league. Since retiring from the WNBA in 2016, Milton-Jones has seamlessly transitioned into a career in coaching women's basketball at Pepperdine University. As head coach at Pepperdine, Milton-Jones led the team to their first ever WNIT bid in 2019. In April of 2020, Milton-Jones became the head coach of Old Dominion Women's Basketball in Norfolk, VA. Old Dominion went 7-9 in Conference USA, and 13-11 overall during the 2020-21 season.
Milton-Jones became a leader for the league in its infancy. She played internationally throughout her professional career and taught younger WNBA athletes how to navigate life as a young woman in professional basketball. She was the bridge between the league's dominant players of the 2000s, and the 2010s. An exemplary player turned coach that continues to leave her mark on our game.
• Discuss this story on the Women's National Basketball Association message board…
The opinions expressed in this release are those of the organization issuing it, and do not necessarily reflect the thoughts or opinions of OurSports Central or its staff.

report this adSource