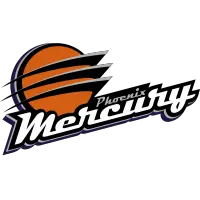 April 13, 2021 – Women's National Basketball Association (WNBA) – Phoenix Mercury News Release
PHOENIX – The three-time WNBA Champion Phoenix Mercury and WNBA today announced the 32-game regular season schedule for the team and league's historic 25th season. The Mercury also announced the team's plan to host fans at all home games, set to be played at the newly-transformed Phoenix Suns Arena, including Fry's Food Stores Opening Night on May 21 at 7 p.m. against the Connecticut Sun. A full broadcast schedule with national and locally broadcasted games will be announced on a later date.
At this time, the Mercury intend to mimic the Phoenix Suns' plan to safely host fans, which currently includes approximately 5,000 distanced, masked patrons at NBA games. Exact date of on-sale for single-game Mercury seats is still TBD.
"Our fans have not been able to see their team in person since September 2019, more than 19 months ago," said Mercury Chief Operating Officer Vince Kozar. "Following the direction of health and wellness experts from the State, County and NBA/WNBA, and following the lead of the Suns who have been safely hosting fans since February, we are excited to welcome the X-Factor to our transformed home in downtown Phoenix. We will host all of our PayPal X-Factor season ticket members, and all remaining ticket inventory will go on sale on a per-game basis in the coming weeks."
The 2021 schedule will see the Mercury play 32 games in 128 days, 16 at home and 16 on the road, with a 34-day break from July 11-August 14 for the 2021 Summer Olympics. Phoenix's schedule does not feature any back-to-back games this season, however the Mercury will play the same opponent in consecutive games over a three-day span seven times this year (June 1 at Chicago and June 3 vs. Chicago; June 9 and 11 vs. Dallas; June 16 at 18 at Los Angeles; June 30 and July 2 vs. Minnesota); July 9 vs. Seattle and July 11 at Seattle; August 25 at 27 at New York; September 4 and 6 at Indiana)
The Mercury's schedule is front-loaded with home games this season, which will see Phoenix play 10 of its 16 home games prior to the Olympic break. Phoenix, however, will be tested early, tipping off the season with five of its first seven games on the road, including a three-game road trip to begin the 2021 season. The month of June will feature the Mercury's longest home stand of the season with four consecutive games scheduled from June 3-13 in Phoenix.
The WNBA's balanced schedule (three matchups against 10 teams, two meetings with the 11th, regardless of conference) will see the Mercury make two visits to Atlanta, Indiana, Los Angeles, New York and Seattle, and twice host Dallas, Connecticut, Las Vegas, Minnesota and Chicago. Phoenix faces Washington twice this season with one game at home and one in the Nation's Capital.
12 of the Mercury's 13 home games Tuesday through Saturday will begin at 7 p.m. Phoenix time, with the exception of Phoenix's game tipping off at 6 p.m. on Friday, July 9 against Seattle. Two of the Mercury's Sunday home games (June 13 and August 15) will begin at 3 p.m., while the season finale on Sunday, September 19 against Las Vegas, will start at Noon.
WNBA all-time leading scorer Diana Taurasi , two-time WNBA scoring champion Brittney Griner and four-time WNBA All-Star Skylar Diggins-Smith return to Phoenix this summer, as the trio attempts to lead the Mercury to a WNBA-record tying fourth championship in 2021.
2021 PHOENIX MERCURY SCHEDULE
DATE OPPONENT TIME NATIONAL TV
May (2 home/4 away)
Fri. 14 @ Minnesota 5 p.m.
Sun. 16 @ Connecticut 4 p.m.
Tue. 18 @ Washington 4 p.m.
Fri. 21 CONNECTICUT 7 p.m.
Wed. 26 LAS VEGAS 7 p.m.
Sat. 29 @ Dallas 5 p.m.
June (6 home/3 away)
Tue. 1 @ Chicago 5 p.m.
Thu. 3 CHICAGO 7 p.m.
Wed. 9 DALLAS 7 p.m.
Fri. 11 DALLAS 7 p.m.
Sun. 13 NEW YORK 3 p.m.
Wed. 16 @ Los Angeles 7:30 p.m.
Fri. 18 @ Los Angeles 7:30 p.m.
Sat. 26 LOS ANGELES 7 p.m.
Wed. 30 MINNESOTA 7 p.m.
July (2 home/2 away)
Fri. 2 MINNESOTA 7 p.m.
Wed. 7 @ Las Vegas 7 p.m.
Fri. 9 SEATTLE 6 p.m.
Sun. 11 @ Seattle 4 p.m.
***2021 Summer Olympic Break***
August (4 home/3 away)
Sun. 15 ATLANTA 3 p.m.
Tue. 17 INDIANA 7 p.m.
Thu. 19 WASHINGTON 7 p.m.
Sat. 21 @ Atlanta 9 a.m.
Wed. 25 @ New York 4 p.m.
Fri. 27 @ New York 4 p.m.
Tue. 31 CHICAGO 7 p.m.
September (2 home/4 away)
Sat. 4 @ Indiana 10 a.m.
Mon. 6 @ Indiana 4 p.m.
Wed. 8 @ Atlanta 4 p.m.
Sat. 11 CONNECTICUT 7 p.m.
Fri. 17 @ Seattle 7 p.m.
Sun. 19 LAS VEGAS 12 p.m.
All times local PHOENIX time.
Home games in CAPS. All Mercury home games played at Phoenix Suns Arena.
Game times and dates are subject to change.
• Discuss this story on the Women's National Basketball Association message board…
The opinions expressed in this release are those of the organization issuing it, and do not necessarily reflect the thoughts or opinions of OurSports Central or its staff.

report this adSource