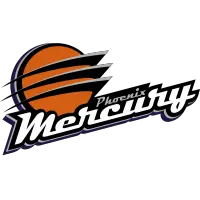 March 8, 2021 – Women's National Basketball Association (WNBA) – Phoenix Mercury News Release
PHOENIX – On International Women's Day, the Phoenix Mercury and Fry's Food Stores today announced an expansion of their longtime partnership that will include the grocer's logo on the front of the team's jerseys beginning in 2021.


"Fry's Food Stores is more than just a partner, they're an invested supporter of women and girls, and the Phoenix Mercury," said Mercury Chief Operating Officer Vince Kozar. "In Fry's we have a partner who shares our values of equality and representation for women, whether on a basketball court, in an office, or in a store. We thank them for their continued commitment to us and our shared mission, and are thrilled to make this announcement on International Women's Day."
One of the team's longest-tenured partners, Fry's Food Stores becomes the Mercury's third marquee jersey partner since the asset first became available in 2009. That season, Phoenix became the first WNBA team and just the second team in American sports history to feature a partner logo on a game jersey, and the Mercury remains the only WNBA team to have had a marquee jersey partner every season since 2009. Fry's Food Stores joins PayPal, the Mercury's jersey badge partner (left shoulder), on the front of all of the team's game uniforms. Previews of the branded uniforms will be provided at a later date.
"Fry's has six core values including safety, diversity, inclusion, respect, integrity and honesty," said Monica Garnes, president of Fry's Food Stores. "We live these out in all we do and so it makes sense that we support women and the many ways they contribute to the fabric of our company and our community. The Mercury plays a vibrant public role as accomplished athletes as well as mentors and heroes to both girls and women across Arizona."
The Mercury and Fry's Food Stores partnership has always centered on the fan, the customer, and the Fry's staff. The pair established a one-of-a-kind ticket promotion that allows Fry's customers who spend $50 or more to receive complimentary Mercury tickets, and three years ago began a unique behind-the-scenes speaker series for store personnel featuring Diana Taurasi. Plus, each summer, the entire Mercury team "trades places" with store personnel for an afternoon, meeting staff and fans, and a deserving mother from Save the Family Foundation of Arizona is treated to a grocery-shopping spree. Fry's has been at the heart of some of the Mercury's most important moments, from sponsoring the Mercury's Home Opener and fan giveaway every year, to the 2014 "White Out" in Game 1 of the Western Conference Finals, and the championship celebration-complete with replica rings for fans-to open 2015.
Last year, Fry's Food Stores put its brand behind the Mercury's Believe in Women initiative, a season-long campaign that honors Arizona women making a difference in sports, philanthropy, business and/or public service by telling their stories in-arena, via Mercury social media platforms, and on PhoenixMercury.com.
• Discuss this story on the Women's National Basketball Association message board…
The opinions expressed in this release are those of the organization issuing it, and do not necessarily reflect the thoughts or opinions of OurSports Central or its staff.

report this adSource