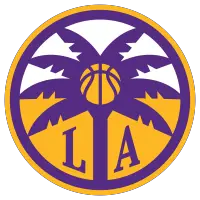 April 19, 2021 – Women's National Basketball Association (WNBA) – Los Angeles Sparks News Release
LOS ANGELES – The Los Angeles Sparks, led by General Manager/Head Coach Derek Fisher, open training camp on April 25. The team will have a brand-new practice facility at Academy USA in Glendale.
The Sparks training camp roster features former MVP and WNBA champion Nneka Ogwumike, two-time WNBA champion Kristi Toliver, four-time WNBA champion Seimone Augustus, two-time All-Star Chiney Ogwumike, and 2019 All-Star Erica Wheeler.
In addition, the roster features three rookies: No. 7 overall pick Jasmine Walker, No. 10 overall pick Stephanie Watts, and No. 22 overall pick Arella Guirantes. The Sparks No. 28 and No. 34 picks Ivana Raca (Serbia) and Aina Ayuso (Spain) will not join the team in 2021 and LA will maintain their rights. Maria Vadeeva is expected to join the team after the Olympic Break.
Training Camp Roster
No. Player POS EXP DOB College/Country
1 Amanda Zahui B. C 6 8-Sep-93 Minnesota/USA
2 Te'a Cooper G 1 16-Apr-97 Baylor/USA
5 Stephanie Watts G R 12-Apr-97 North Carolina/USA
7 Maria Vadeeva* C 2 16-Jul-98 Russia
12 Nia Coffey F 4 11-Jun-95 Northwestern/USA
13 Chiney Ogwumike F-C 4 21-Mar-92 Stanford/USA
15 Brittney Sykes G 4 7-Feb-94 Syracuse/USA
17 Erica Wheeler G 5 2-May-91 Rutgers/USA
20 Kristi Toliver G 11 27-Jan-87 Maryland/USA
22 Arella Guirantes G R 15-Oct-97 Rutgers/USA
24 Sydney Wiese G 4 16-Jun-95 Oregon State/USA
30 Nneka Ogwumike F 9 2-Jul-90 Stanford/USA
31 Kristine Anigwe F-C 2 31-Mar-97 California/USA
32 Bria Holmes G 4 19-Apr-94 West Virginia/USA
33 Seimone Augustus G-F 15 30-Apr-84 Louisiana State/USA
40 Jasmine Walker F R 3-Feb-98 Alabama/USA
*will join the team following overseas commitments.
Coaching Staff
General Manager/Head Coach- Derek Fisher
Assistant Coach- Fred Williams
Assistant Coach- Latricia Trammell
Player Development Coach- Jamal "Dash" Lovell
Video Coordinator- Rachel Schrote
Director of Sports Medicine/Head Athletic Trainer- Dr. Courtney Watson
• Discuss this story on the Women's National Basketball Association message board…
The opinions expressed in this release are those of the organization issuing it, and do not necessarily reflect the thoughts or opinions of OurSports Central or its staff.

report this adSource