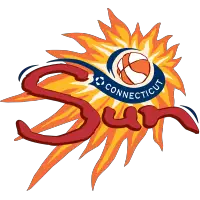 April 16, 2021 – Women's National Basketball Association (WNBA) – Connecticut Sun News Release
With three picks in the 2021 WNBA Draft presented by State Farm®, the Connecticut Sun selected DiJonai Carrington from Baylor University at No. 20, Micaela Kelly from Central Michigan University at No. 21 & Aleah Goodman from Oregon State University at No. 30.
Carrington comes to the Connecticut Sun after a successful season with the Baylor Bears. As a graduate transfer, the 5-11 guard came off the bench to help lead her team to the Elite 8, ultimately garnering Big 12 Sixth Woman of the Year as well as Newcomer of the Year. In 27 games with the Bears, she scored 382 points, grabbed 133 rebounds, dished out 63 assists and picked off 56 steals. Prior to her time at Baylor, she spent four years at Stanford University where she amassed 912 points, 133 assists, 106 steals and 553 rebounds. While with the Cardinals, the San Diego, Calif. native, was a two-time Pac-12 Tournament Champion, named to the Pac-12 All-Tournament Team (2019) and helped her team reach the Elite 8 (2019) and the final four (2017). During her senior year, she suffered a season-ending injury after starting in five games. Carrington was granted medical hardship and transferred to Baylor as a graduate student for the 2020-21 season.
"DiJonai is one of the best two-way wings in the draft," said Curt Miller, head coach and general manager. "She is a physical guard that scores at multiple levels and defends with physicality. She has played under two legendary coaches in our coaching profession."
Kelly, selected 21st overall by the Sun, is only the second WNBA draftee in Central Michigan University (CMU) history. Crystal Bradford was the first to be selected from CMU in 2015 by the Los Angeles Sparks. During the 2020 season, Kelly ranked fifth in Division I points per game and in 2021 she ranked eighth in points per game. Additionally, she is a two-time MAC champion (2021, 2018), two-time All-MAC First Team honoree (2021, 2020) and two-time MAC All-Defensive Team selection. As a freshman, Kelly helped CMU defeat LSU and Ohio State for the team's first ever NCAA tournament wins. Over the course of four years, the Detroit, Mich. native tallied 2,173 points, 618 rebounds, 513 assists and 206 steals. Kelly leaves CMU ranked second overall in career points in school history.
"Micaela is an athletic and dynamic guard that stuffs the stat sheet," Miller said of the second round draftee. "She can play on and off the ball offensively and is a proven rebounding guard."
Connecticut concluded the draft in the third round with the 30th overall pick where Milwaukie, Ore. native Goodman was selected. The 5-9, three-point shooter joins the Sun from Oregon State University where she ranks No. 1 in school history and No. 7 in Pac-12 history for three-point field goal percentage (43.7). While at OSU she was named to the All-Pac-12 team, earned Pac-12 All-Tournament honors, two Pac-12 All-Defensive Team Honorable Mentions and most notably, earned the inaugural Pac-12 Women's Sixth Player of the Year in 2019. From 2017-2021, Goodman recorded 1,162 points, dished out 360 assists and grabbed 277 rebounds and 86 steals. Additionally, she shot 44.4% from the field (390-879) and 43.7 from behind the arc (241-551).
"Aleah is an efficient combo guard that shot nearly 50% from the 3-point line," said Miller. "She is a floor leader that makes all those around her better."
The start of the 2021 season will mark the Sun's 19th since it's inauguration in 2003. The team will return home for the first time since 2019 after the WNBA opted to hold the 2020 season at a single-site in Bradenton, Fla. due to concerns surrounding the COVID-19 pandemic. For more information on the team or to purchase tickets, visit Connecticutsun.com.
• Discuss this story on the Women's National Basketball Association message board…
The opinions expressed in this release are those of the organization issuing it, and do not necessarily reflect the thoughts or opinions of OurSports Central or its staff.

report this adSource