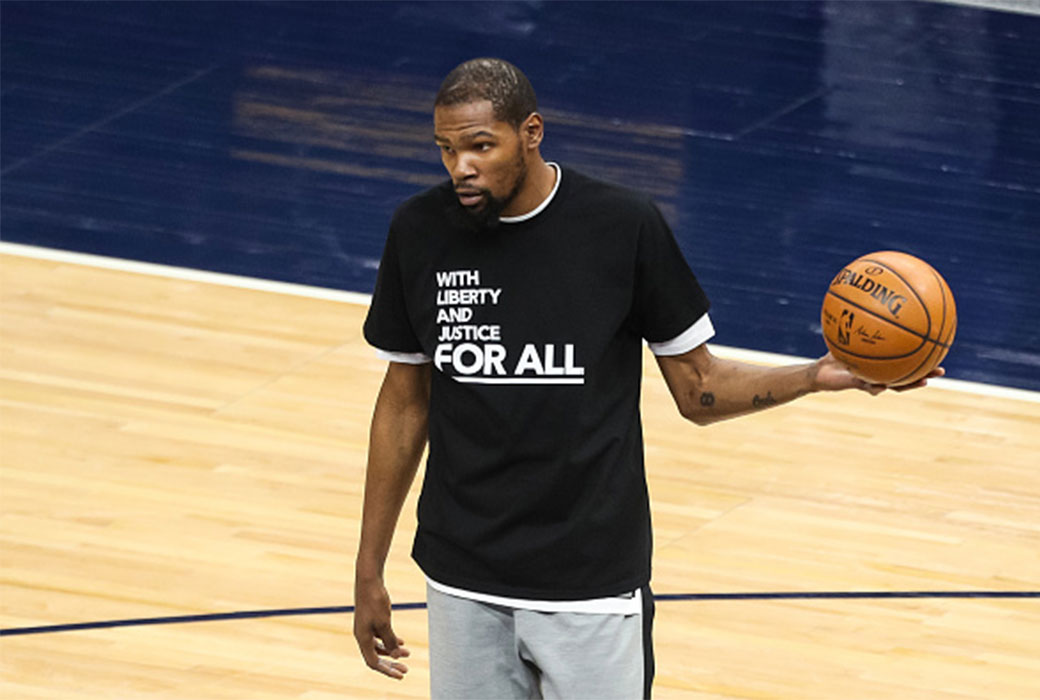 Prior to the Minnesota Timberwolves rescheduled game against the Brooklyn Nets on Tuesday night in Minneapolis, players on both teams wore shirts in response to the shooting of Daunte Wright, a 20-year-old Black man who was fatally killed during a traffic stop by a white police officer, Kim Potter, in Brooklyn Center, Minnesota on Sunday.
The shirts read, "with liberty and justice FOR ALL."
With liberty and justice 𝙛𝙤𝙧 𝙖𝙡𝙡. pic.twitter.com/s8y9wpvqd5

— Brooklyn Nets (@BrooklynNets) April 13, 2021
With Liberty And Justice 𝙁𝙤𝙧 𝘼𝙡𝙡 pic.twitter.com/zExc6MTKFU

— Minnesota Timberwolves (@Timberwolves) April 13, 2021
This is the second incident of Minneapolis police officers killing an unarmed Black man that has sparked national protests, with the killing of George Floyd occurring in May of last year. Derek Chauvin, the officer responsible for Floyd's death, is currently on trial.
UPDATE: The New York Times reported on Wednesday that Potter will be charged with second-degree manslaughter.
The shooting of Wright has sparked protests across the United States. The Timberwolves postponed their Monday night game against the Nets to Tuesday night due to the incident as well.
Both teams held a moment of silence before tipoff in honor of Wright.
The Timberwolves and Nets held a moment of silence pregame to honor Daunte Wright. pic.twitter.com/AvdThLbQ4W

— NBA on TNT (@NBAonTNT) April 13, 2021
Multiple players and coaches across the League have spoken up about the recent tragedy, including the NBPA and Spurs' head coach Gregg Popovich.
"We mourn the death of Daunte Wright and pray for his family and loved ones during this extremely difficult time," the NBPA said in a statement. "Our hearts go out to the entire Minneapolis community as they struggle to process this latest tragedy together with the ongoing trial of Derek Chauvin."
Spurs coach Gregg Popovich just gave an angry, emotional response when asked about fatal shooting of Daunte Wright by a police officer near Minneapolis. He talked guns, policing and blasted Gov. Greg Abbott. (Pt. 1) pic.twitter.com/VVBr9hRzSw

— RJ Marquez (@KSATRJ) April 12, 2021
"It just makes you sick to your stomach," Popovich said on Monday night, according to KSAT's RJ Marquez. "How many times does it have to happen? As sick to our stomachs as we might feel, that individual is dead! He's dead! And his family is grieving, and his friends are grieving. And we just keep moving on as if nothing is happening."
Philadelphia 76ers head coach Doc Rivers also shared his frustrations:
"[It's] frustrating, as it should be for… I think we got to stop saying it's frustrating for all Black Americans," Rivers said, per Kyle Neubeck of the Philly Voice. "I think we should be frustrated by all Americans. I don't know if it was a mistake or not, I saw the body cam video like everyone else, but I just know the frustration is a real thing for everybody and for us."
Celtics' Jalen Brown, who has continued to step up and use his voice for activism and racial justice, said after the team's 116-115 win against the Trailblazers on Tuesday that he had "nothing basketball to talk about."
"Yeah, you're going to have to pardon me. I know that we're here to talk about basketball, but I got nothing basketball to talk about. Inhumane events have recently made headlines over the last week, last month, last years," Brown said, via CBS Boston. "And at this point, we shouldn't be pleading or persuading people to see things for what they are. We know what this system is and we know what it's capable of."

"If you're watching this, listening or tuning in, I just want you to know that your life has value. So much value. But they're trying so hard to make you feel otherwise," Brown continued. "My life has value. My life had value before I played for the Celtics, and it will long after."

"At some point, you realize what you're dealing with," he said. "The power has and always will be with the people. You gotta stand up and fight. What other solution do we have? That's really all I got. See you guys later."
—
For ways to support and donate to Daunte Wright's family, read here.
For a list of resources and ways to support the Black Lives Matter movement, read here.
135